In digging out of unread/unwatched material for the holidays, I happened across a gem that perfectly describes the idea of the "learning map" which has been a theme in recent posts. I'd suggest watching all of Danny Hillis' "The Learning Map" (from OSCON 2012, embedded).
In case you can't devote 15 minutes to watching, Hillis describes a special librarian who steered him towards new interests at a young age (I wish I had a Mrs. Wilner!). He asks the audience what it might be like if everyone could learn whatever they want, and to have a personalized guide to help one chart their learning. Hillis then describes an idea for organizing online materials to help individuals discover relevant and increasingly complex content, and ultimately to assessing their knowledge to guide future learning.
Hillis envisions the material laid out in a way that would make sense to a fourth grader — as an actual map, where one could see their way forward as well as past progress (he calls it "a map for my ignorance").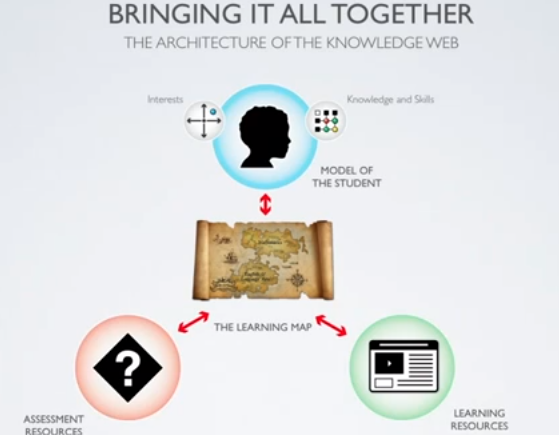 Hillis ends on two topics that are near to my interests — assessment and standards. For example, he points out that assessment might help one who is new to a particular field figure out where to start based on their prior knowledge.
In looking at the open source standards to connect the pieces, he notes that LRMI (the Learning Metadata Resource Initiative …not sure how I haven't blogged about that yet) might provide a framework for organizing existing online material.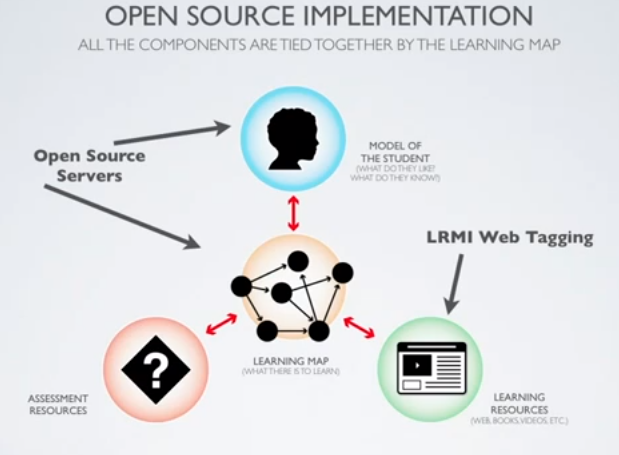 In connecting an organizational strategy for the wide web of educational materials with a means to help one know the depth of their knowledge of a particular area, Hillis provides a path to more holistic learning that one could not gain from taking the occasional MOOC.
Perhaps traditional education institutions still have a role to play in the world Hillis describes. There would be much work to do, such as charting the map, creating assessments, and accrediting learning. Maybe a traditional residential education would still be valued for providing an environment where people can connect to walk through the map together. Or, perhaps there are problem solving skills that could not be learned through the knowledge of the map, and the (likely) automated assessments.
In any case, this is a vision for online learning that might be worth the decades of investment that it would take to implement. I hope to pick up the thread of standards — especially for assessment — in future posts.